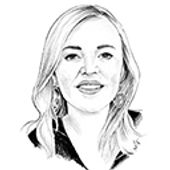 Heather Evans
Head of Client Experience – Loyalty
Hi, I'm Heather! I'm Head of the Client Experience Department. I am based in London and my team is all over the world, from Argentina to Kenya, Portugal to Indonesia. I am always on the lookout for creative candidates for the Client Experience team, with a passion for talking about travel and a keen eye for detail. 
My journey in the travel and hospitality industry started with cleaning hotel rooms, to selling trips, working in the Concierge team at Jacada and now management. I love my job for so many reasons, not just my wonderful colleagues but the diversity of responsibilities here - and talking about travel, feedback & happiness every day.
Aside from working on making Jacada magic happen, I can usually be found adventuring abroad; in 2022 I embarked on a wine-fuelled European roadtrip, a grand tour of India, and trekking to see the gorillas in Rwanda. 2023 plans involve Greece, France, Colombia, Canada and beyond...